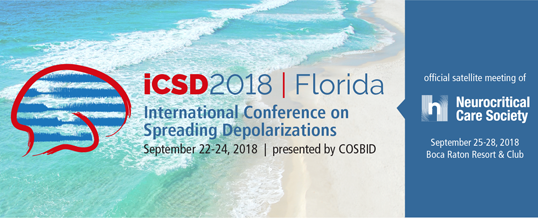 We are pleased to announce that the International Conference on Spreading Depolarizations (iCSD) is now open for abstract submission and registration! iCSD is an annual meeting of translational neuroscience dedicated to the study of spreading depolarizations/depression and their role in neurological disease. This year's meeting will be held in Boca Raton, Florida on September 22-24, 2018, as an official satellite of the Neurocritical Care Society. The meeting is open to attendance by those from diverse scientific and medical backgrounds.
Abstract Format and Submission
iCSD welcomes abstracts on any topics relating to spreading depolarizations, spreading depression, or associated processes in disease states or healthy brain. Both laboratory and clinical investigations are welcome. Abstract bodies should be no more than 2,300 characters (not including spaces) and be formatted as a single paragraph, using structured headings within the paragraph as appropriate for the work (e.g. Introduction, Methods, Results, Discussion). Indicate presenting author with underline and list department and institutional affiliations for all authors using superscript numbers. All submissions will be considered for oral presentation, but may be accepted as posters. Submit abstracts and inquiries by email to abstracts@cosbid.org.
Registration and Lodging
For meeting registration, click here. Registration fee is $125 until July 15, but then increases to $150. Registration includes the welcome reception, breakfasts, lunches, snacks and coffee/tea breaks. The off-site dinner on Sunday, September 23, is an additional cost that can be paid at registration.
Lodging at the Boca Raton Resort and Club can be booked here. The room rate options are $160, $180, $210 and $310. The earlier you book, the better the chance to get the room type of your choice.
Key Dates
June 15: Abstract Deadline
July 15: Early Bird Registration Ends
August 23: Hotel Room Block Expires
September 14: Registration Closes
Visit the meeting website at www.cosbid.org/iCSD for complete details and continuing updates. We look forward to seeing you in Boca Raton!
The iCSD Scientific Committee
Jed Hartings
Brandon Foreman
Raimund Helbok
Bill Shuttleworth
Cenk Ayata
Jens Dreier